Sitting at a friends' table one night while I was staying her house over night, I clicked to refresh Twitter while we were talking. There was the tweet.

So I clicked the link.
Reading through the article I started to get excited, it was about the popularity of dominant and submissive fantasies and it was encouraging readers to give it a try.
Then, the second to last paragraph, I saw it…
"Not ready to go full on leather mask and ball gag? Try a few different scenarios to ease your way into it. "You can go to BDSM websites and watch educational videos where people do demonstrations," suggests Dr. Chaves.
KinkAcademy.com, a site dedicated to providing sex education on topics like BDSM, has over 1,000 instructional videos by experts in the field that show you what to expect."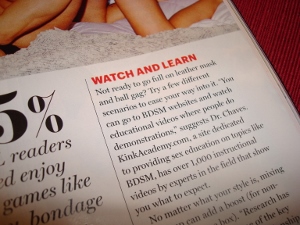 Yes! KinkAcademy.com on the printed page of a Cosmo magazine! I grew up reading Cosmo magazines and while I haven't always agreed with their advice, it is an iconic source of sexy info for women. And there was MY creation, described so perfectly on the page!
Since the inception of Kink Academy I have dreamed of helping normalize kinky sex. I've dreamed of being recommended in mainstream outlets as a reliable resource for learning about all aspects of sexuality. While that dream has been slowly coming true over the last few years, this is an especially exciting moment in Kink Academy history!
I am simply pleased as punch (as my mother would say J) and I look forward to many more mentions in Cosmo magazine as well as many of the other magazines offering any kind of sex advice!
Thank you to @Hernando_Chaves & @RachelKhona and of course @CosmoForLatinas!!!